The Best Laser Levels of 2022
Even though a bubble level can get you through the simple task of hanging a picture on a wall, there are new developments in precision measuring by the way of laser levels. Those who work in construction or rely on accuracy for straight line measurements can benefit from the ease of use and accuracy of a laser level, but they aren't just for professionals. The DIYer can get a lot of use from this tool. Here's how to find out which one would be the best for your project, as these are the top options for 2022.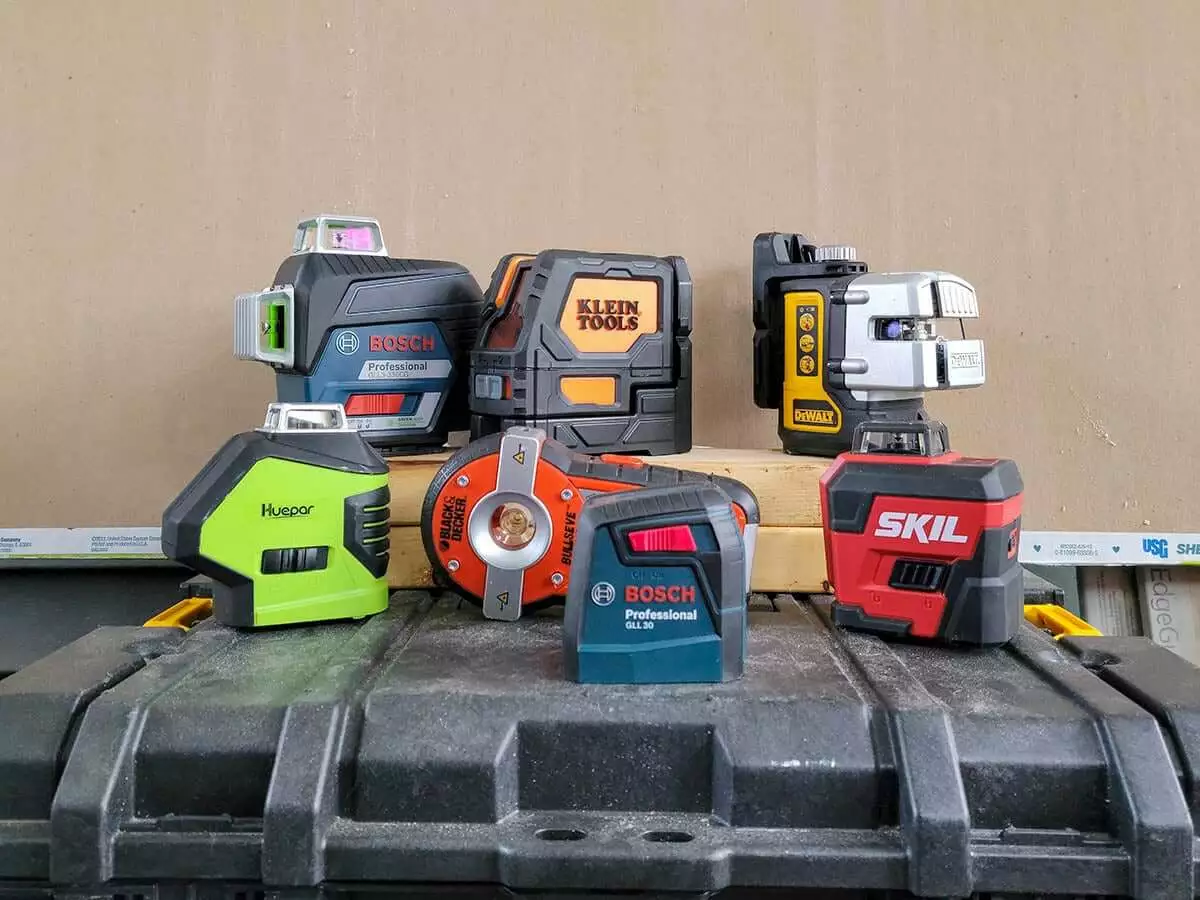 Johnson Level Self-Leveling Cross-Line Laser Kit
This tool kit is great for the homeowner who enjoys DIY projects or the contractor who needs a compact, reliable laser level for quick measurements. This professional-grade level can measure a span up to 100 feet indoors, and the set of batteries lasts for about 12 hours during continuous use. Set on the tripod base, it's stable to take both horizontal and vertical measurements.
Bosch Green-Beam Self-Leveling Cross-Line Laser
This laser uses green beam technology, producing a beam almost four times brighter than a standard red light. The level can provide 360-degree coverage, and the recessed windows help protect the laser glass. An easy-to-use interface can change layout modes, and the fill range is a 100-foot diameter.
Leica Lino Green Beam Line Laser
This is a multi-functional cross line and point laser that utilizes green beams for visual ease. The heavy-duty li-Ion battery can last up to 28 hours from a single charge. For contractors or professionals who need to measure long distances, the working range for this laser level is up to 35 meters, provided the lighting conditions are right. However, adding the companion receive LEICA RGR 200 can extend the range to 80 meters.
Spectra LT52G Point and Line Laser Tool
Laser levels with bright green beams are often the easiest to see on interior applications, including construction sites. This is a self-leveling multi-purpose option for contractors that allows for both vertical and horizontal alignment, point transfers, 90-degree squaring and finish carpentry. By adding the handheld receiver, this laser becomes useful for masonry work, septic tank installation and landscaping.
Bosch Combination Point and Line Laser Level
This is a handy tool for a point line. It can mount to a tripod, wall or flat surface and generates a single, specific point. This is great for projects where the precise placement of a screw or nail is needed.
Johnson Level Self-Leveling Rotary Laser Level
For those working indoors or outside, this rotary laser level projects a bright red beam around 360 degrees. It's a versatile laser that can be used vertically or horizontally, though vertical applications require manual leveling. The laser has a split beam feature to produce a 90-degree angle. There is also an alarm that sounds when the equipment has gone beyond leveling range.
Shop the Best Laser Levels
When it comes to a great selection of the best laser levels for 2022, check out Engineer Supply. With industry-leading brands at affordable prices, you can easily purchase the tools you need to do a job with accuracy and precision. Shop the products today.