How to Make a Kitchen Look Modern with Brown Kitchen Cabinets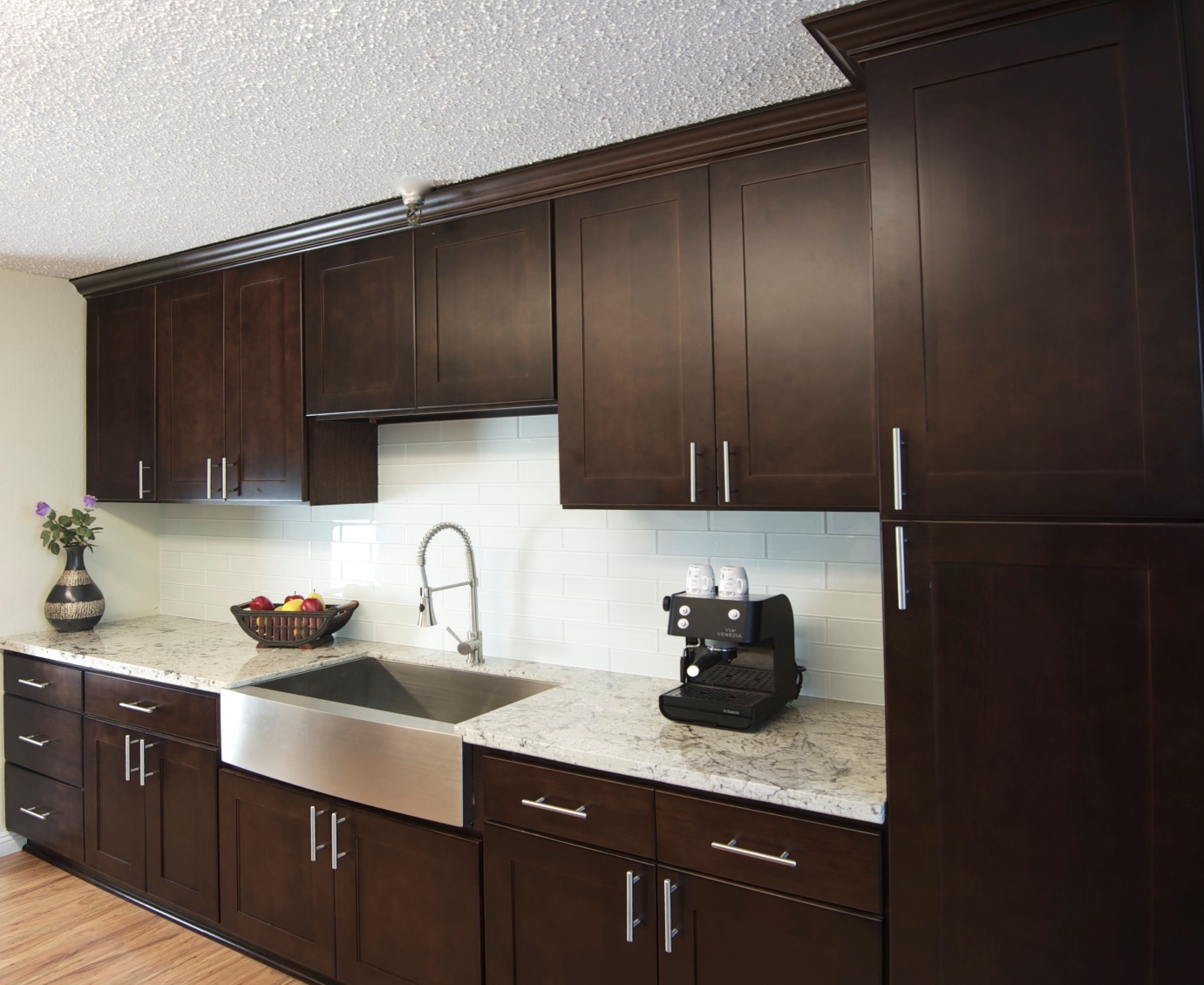 Popular for their elegant appearance, brown kitchen cabinets have been a highlight of many homes for many years. However, with the rising popularity of bright-colored cabinet designs, brown cabinets are nowadays considered outdated by many homeowners and designers.
In this regard, you might be tempted to get rid of your brown cabinets simply because the modern bright-colored designs have led many to render them outdated. However, there are proven ways to make an interior look modern with brown cabinets.
Read this article to find out how you can modernize the interior outlook of your scullery with brown-painted cabinets.
Can Brown Kitchen Cabinets Look Modern?
The simplest answer to this question is yes. Brown kitchen cabinets can easily look modern if you do the following;
#1: Repaint the Cabinets
All types of cabinets are considered visually appealing based on their color features. Hence, if your brown cabinets are fading, applying on them fresh paint, either their original brown or a new shade of brown, can do much in making them look modern.
Regarding repainting, you should go for paint varieties that are pocket-friendly, easy to use, and resistant to peel-offs if you want to get value for your money. An interior design professional can help you pick the right paint to apply to your cabinets.
#2: Accessorize the Cabinets
Another way to make brown kitchen cabinets look modern is by accessorizing them. Because modernity is all about luxury, you can beautify your brown cabinets with metallic accessories like stainless steel, gold, or brass appliances, fixtures, and hardware.
If you opt for light brown cabinets, hardware and fixtures made of brass or chrome are the best you can choose in terms of accessories. If your kitchen hall looks classic or traditional, however, gold or stainless steel appliances can significantly help you enhance design aesthetics.
#3: Mix Colors
Because brown is generally neutral, brown-painted kitchen cabinets can blend well with many colors, from darker to lighter tones. If you want brown cabinets to make your kitchen look modern, you need to pair the cabinetry with a rhyming shade. Generally, the most popular color combination options for brown kitchen cabinets include the following;
White walls and brown kitchen cabinets
Brown cabinets and wooden floors
Grey walls and brown kitchen cabinets
Blue walls and brown cabinets
Are Brown Kitchen Cabinets Worth It?
Yes! Brown-painted kitchen cabinets are generally functional and easy to work with. Because of their neutral shades, they can be blended with different colors, a fact that justifies their compatibility with different kitchen designs. If you accessorize and constantly refurbish them, brown cabinets can make your kitchen look all-time contemporary.
Final Thoughts
Despite their tens of years of existence in interior design, brown kitchen cabinets are still fashionable. They are versatile, functional, and uniquely attractive, all the reasons why people love them. You can easily make a kitchen with brown cabinets look modern if you apply the tips outlined in this article.